Nigeria's government has told the country's mobile phone networks to block access to Twitter, a statement from the industry umbrella body said.
Phone users are reporting difficulties in accessing the site. It is still available through some wi-fi networks.
This comes after the government said it was suspending Twitter operations in the country "indefinitely".
It alleged the site was being used to undermine "Nigeria's corporate existence".
Twitter has called the ban "deeply concerning".
The Association of Licensed Telecommunications Operators of Nigeria (Alton) said its members complied with the request to suspend Twitter access based on "national interest provisions" in the telecoms law and the licensing terms.
But it also said that it backed the UN position that the right to communicate both offline and online should be protected.
"This is a shocking move for Africa's largest democracy to block access to one of the country's main communication avenues," the BBC's Nigeria correspondent Mayeni Jones says.
Removal of Buhari tweet
The move by the government came just days after a tweet by President Muhammadu Buhari was removed for breaching the site's rules, though no mention of this was made in its statement.
Mr Mohammed has previously criticised the US social media giant's decision to take it down, calling it "double standards".
The tweet sent by Mr Buhari on 1 June referred to the 1967-70 Nigerian Civil War and to treating "those misbehaving today" in "the language they will understand".
A Twitter spokesperson said at the time that the post "was in violation of the Twitter Rules".
And in a statement on Friday, the company – which in April announced its new African headquarters would be based in neighbouring Ghana – said it was "investigating and will provide updates when we know more" about the Nigerian ban.
The government gave no explanation of how Twitter had undermined Nigeria's corporate existence.
Searching 'VPN'
By Saturday morning, BBC reporters in Lagos and Abuja said they were unable to connect to Twitter through two of the countries largest phone networks: MTN and Airtel.
Internet monitoring site Netblocks reported that Twitter was restricted on all the leading networks.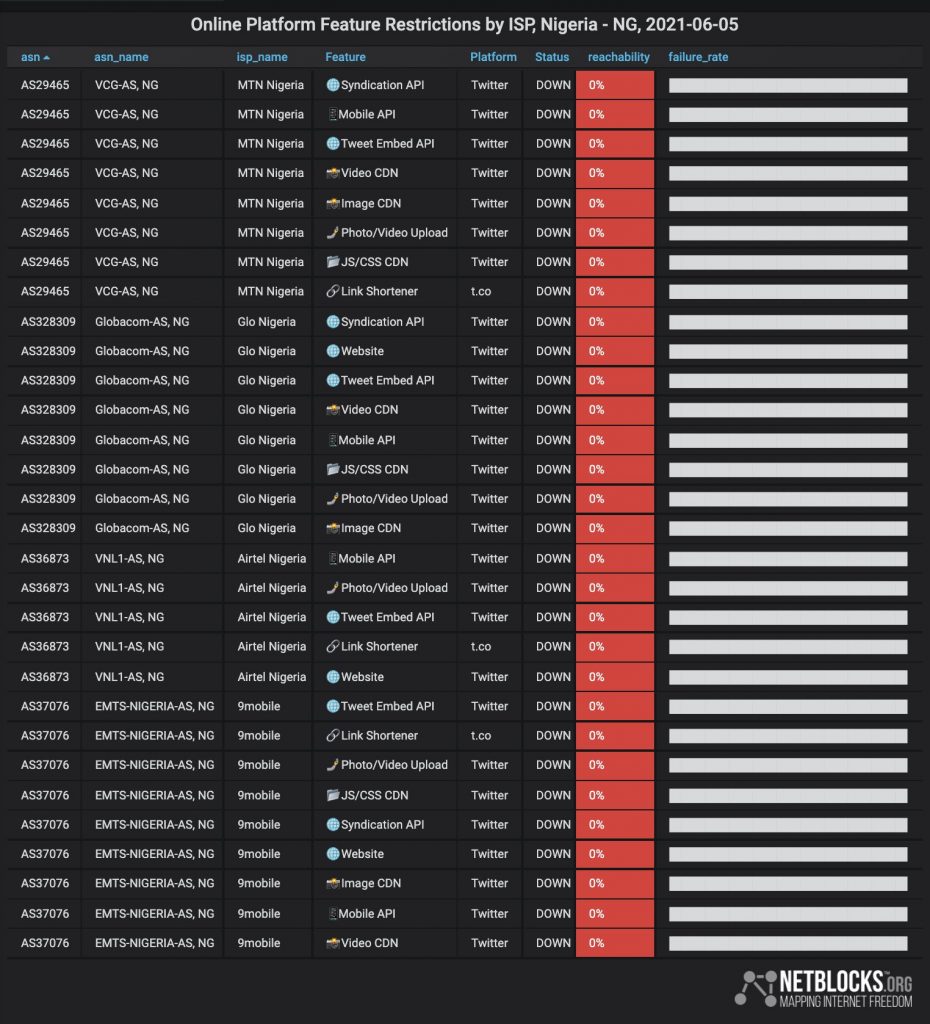 Source: BBC