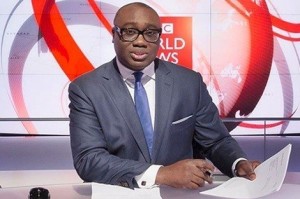 In less than two days, the world will bid farewell to the year 2014 which birthed many events. For the Ghanaian Showbiz fraternity, 2014 hasn't really been good with records of death.

But despite death laying its icy hands on some personalities, the year also recorded some interesting incidents.

In this piece, "the good, the bad, and the ugly", stories that shocked and amazed which will be highlighted in this column.

A recap of stories that made headlines and news in Showbiz.
Deaths

The media fraternity was hit with the shocking news of the death of Komla Afeke Dumor. He died on January 18. Until his death, Komla was the host of BBC's Focus on Africa. His death was a blow not just to Ghanaians but to Africa and the world.

It was such an unpleasant news when in the early hours of Thursday, March 13, news broke in that manager of hiplife artiste, Kwaw Kese, Fennec Okyere, had been murdered at his Manet Court residence. The year is almost ended and those behind the heinous crime are yet to be arrested.

On May 3, the unfortunate news of the death of fashion icon, Kofi Ansah, was received. He died at the Korle-Bu Teaching hospital at age 63.

In March, another death was recorded of artiste, Araz. Known in real life as Peter Aryee, Araz was murdered at his Weija residence. Until his death, Araz was the Chief of Joma, a village in the Greater Accra Region.

In May, bubbly TV presenter and hostess of GTV'S Movie Chatroom, Irene Asante died on May 14. Irene was scheduled to tie the knot some few weeks before she passed away at the age of 42. She was the former wife music producer, Hammer of the Last Two Music Group and manager for female artiste, Mzbel.

The Akan Drama scene was not spared of the deaths. Veteran actor, Richard Kwame Agyeman, popularly known in the Akan drama series, Obra, as Odompo passed on October 21. He was 60 years.

When we all thought the year would end with no death anymore, the unexpected death of the CEO of Exopa Modeling Agency, Ibrahim Sima. According to an autopsy report, he died from acute appendicitis.
Controversies
Juliet confirms break up

Despite the many speculations of crashed marriage which she has always denied, actress, Juliet Ibrahim, in June finally confirmed the breakup of her marriage to Kwadwo Safo Kantanka Jnr. She revealed that she had been divorced for two years.
Miss Ghana resigns

Miss Ghana 2013, Giussepina Baafi, resigned of her position as the Miss Ghana. She gave irreconcilable differences as the reason for her resignations. It was one of the biggest news on the entertainment calendar in 2014.
World Cup Scandal

Despite the poor performance of the Black Stars in Brazil, there were many scandals the pursued them even after the tournament. Report of the embezzlement of funds was key but what drew the attention of showbiz fanatics was the allegation that the female ambassadors were engaged in sexual favours from the players. It was one the biggest news in the year.
Castro's 'demise'

Where is Castro? This is the question on everyone lips till now. Sunday, July 6, will definitely go down in history as one of the saddest days for the music industry. It was the day that Castro went missing when in the company of some friends including Black Stars captain, Asamoah Gyan went to have fun at Ada. Reports that later came in had it that the hiplife artiste, who with a female friend had gone jet skiing never returned.

As of now, no one knows the whereabouts of the two.
Grace Ashy exam shame

It was definitely not a good year for gospel artiste, Graze Ashy who was suspended from the Methodist University in July for cheating during examination. Even though she denied, a statement issued out by the school authorities confirmed the story.
Tiffany's Sex tapes

Perhaps, she is no stranger to leaked tapes but on November 7, female rapper, Tiffany, might have the shock of her life when her leaked sex-tape popped up. She later accused her ex-husband, who she is fighting over the custody of their son as the one behind the leaked tapes.
Court cases

In January 2014, rapper Apaatse dragged Ghanaian technology company, rLG to court for illegal use of his Wedding Day song as the default ringing tone on their android phones without his knowledge and approval. The case is still pending in court and sources say, out of court settlement is on the table now.

The last quarter of 2014, event company, Charterhouse and dancehall artiste, Shatta Wale have been in and out of court for a defamation suit brought against the latter.

It was a welcome decision taken against a musician by a major company. Personally, I think if Shatta Wale had any grievances against Charterhouse, he had a beret way to handle it than insult them.

Comedian and musician, A-Plus, was dragged to court by Lawyer Maurice Apaw for what he claimed were defamatory comments made by A Plus against his person. The case was withdrawn and the two settled their differences.
Kwaw Arrest

Controversial rapper, Kwaw Kese, was arrested by the police in Kumasi for smoking a substance suspected to be cannabis at a pub in Nhyiaseo, a suburb of Kumasi. He has been refused bail even though he has taken ill and has been admitted at the Komfo Anokye Teaching Hospital. The world waits for the outcome as he will appear in court again on January 5.

Lawrence Hanson popularly known as Bulldog was also arrested as a prime suspect in the murder case of Fennec Okyere. He has been bailed as investigation continues.
Female producers

In 2014, lots of female actresses became producers and had their own movies.

Amongst them were Nana Ama McBrown, Zynnell Lydia Zuh, Yvonne Nelson, Yvonne Okoro, Nadia Buari, Kafui Danku and Lydia Forson.
Big Brother Hotshots

This year, Ghanaians did not fully participate in Africa's biggest reality show, Big Brother Africa when Ghanaians auditioned in Ghana were swapped with Ghanaians based in South Africa.
Best Shows

The Versatile Show by Okyeame Kwame by all standards was the best show I attended in 2014. Miss year's Miss Malaika pageant would be my second best show in 2014.

Of course, I couldn't have recollected and written about all that happened in 2014. Happy New Year!
Source: Daily Graphic