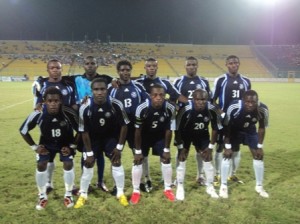 Bechem United have been found guilty and will serve a one-match home ban after being charged with misconduct by the Disciplinary Committee of the Ghana Football Association.
The Club, pleaded guilty to the charge. They have additionally been fined GH¢3,000.00.
"The Disciplinary Committee finds Bechem United guilty for the acts of its supporters in accordance with GFA Regulations.
"The Committee has taken into consideration the plea of mitigation of the CEO of the club," the Disciplinary Committee ruled.
Bechem United was charged with misconduct as a result of the acts of its supporters during their Premier League match with AshantiGold on December 8, 2013.