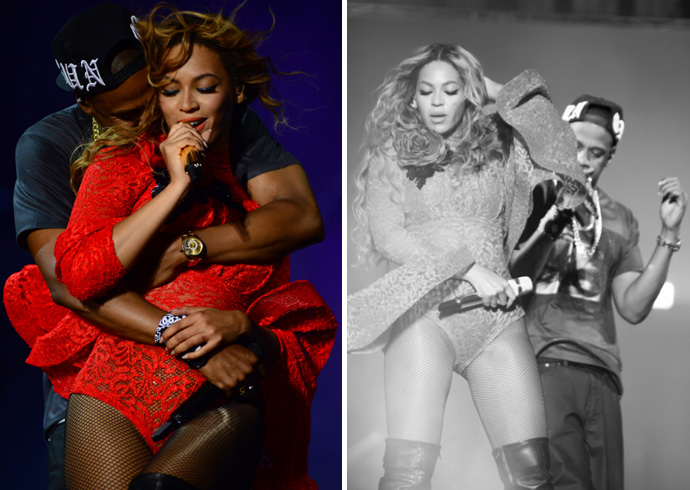 Guess they're not on the run from their marriage after all! Or are they?
Yesterday Beyonce uploaded a few photos of herself and hubby Jay Z on her Tumblr page, and despite reports that the couple are staying in separate hotels and this close to splitting, Bey seems to want us to believe otherwise! Though Beyonce usually posts sexy photos of herself or sweet snapshots of daughter Blue Ivy, we find it interesting that the last three she uploaded were pictures of Jay hugging her.
Yesterday Page Six reported that the couple of twelve years are staying in different hotels and arriving separately at their concerts, and things are apparently so bad that they might not even make it to their final show in Paris on September 13th before announcing their split!
"This may not make it to San Francisco. I'm definitely not sure that they'll make it to Paris," a source told the website. "They've had discussions lately about the inevitable sit-down interview when they finally do split, and Jay's been adamant that he doesn't want Beyoncé sitting down with Barbara Walters or Oprah Winfrey pretending to be the victim."
Last week a story surfaced online that Beyonce had checked out a posh $21.5 million New York City (N.Y.C). apartment by herself (further fueling rumors that a split from Jay Z was imminent), and after that, she posted a picture of Jay Z and Blue Ivy on the beach and wrote, "My favorite hue is Jay Z Blue."