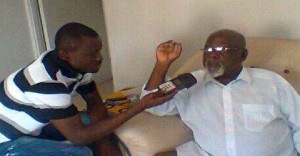 Information reaching us says veteran Ghanaian Highlife musician, C. K. Mann, is seriously dying as a result of a terrible illness.
According to our source, Mr. Mann has been battling with illness for some months now.
Unfortunately, the said musician, who has been singing for well over 40 years now, is so poor that he can't even afford three square meals a day; not to talk of footing his hospital bills.
Our source went further to disclose that Mr. Mann keeps sending messages through people to some of his old pals – musicians to come to his aid. Whilst some went to him to support financially when he first got sick, others didn't even care about his invitation for help.
Since MUSIGA stands for the welfare of musicians, ghanacelebrities contacted the Administrator of the union, Mr. Ahuma Daddy Bosco, and he confirmed "well its true C. K. Mann is seriously sick. I got confirmation from our Welfare Officer.
He also confirmed Mr. C. K. Mann was admitted on Friday 7th March, 2014 at a hospital in the Western region called Gapoa. Since this is a fresh case, the Welfare Officer told me he would send a message to our Western regional representative to visit Mr. C. K. Mann and after receiving a report to that effect, we shall take the next action."
We also learnt from our source that the music collection society in Ghana – Ghana Music Rights Organization (GHAMRO), once went to visit Mr. Mann and gave him some monies for his upkeep. We called Mr. Mann's number many times to talk to him but the calls were not answered.
However, the poor 'Adwoa Yanki' hit maker still remains 'Oliver Twist' – asking for more help. GhanaCelebrities.Com wants to use this opportunity to honour our corporate social responsibility; by appeal to all our fans, readers, well wishers, to kindly donate for this Godly cause.
If you wish to help C. K Mann with anything; call Osarfo on 00233265068979 (Ghana) or Chris on 00447837576037 (UK). You can also reach us via email: info@ghanacelebrities.com
Source: ghanacelebrities.com
– See more at: http://www.ghanafilla.net/poor-c-k-mann-is-dying-slowly/#sthash.2bDU28fD.dpuf