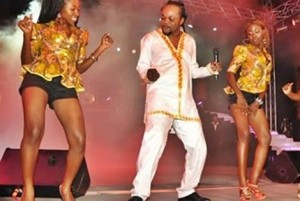 Sensational hi-life legend Charles Kwadwo Ofosu, popularly known as Daddy Lumba, has promised to organize two free shows during the Christmas festivities.
According to him, plans are afoot to have one show in Accra in December and Kumasi in the New Year. Daddy Lumba, who turned 50 on Tuesday September 29, this year, announced this on Adom FM's Ofie Kwanso drive time show hosted by Jerry Justice.
The hi-life legend says, he will be playing the two shows to thank his fans for giving him massive support over the years, through thick and thin.
Unlike other celebrities who throw lavish parties to celebrate their birthdays, Daddy Lumba said he had seldom celebrated his birthday in such style, saying "I am such a quiet person and always like being indoors and do not like being involved in such things", he said.
Daddy Lumba has 29 albums to his credit.
The musician, who recently fell seroiusly ill, told his fans to continue to pray with him as he makes a full recovery.
"In fact, I was very sick for some time but now I'm a bit ok, and still on medication to receive a total recovery", he disclosed.
Source: Michael Boateng/Adom FM.