The youth of five communities in the Brong Ahafo region have showed their displeasure by demonstrating against the Newmont Gold company.
The protest which began in the early hours of Monday (31st August) was attended by countless youth clad in black and red attire as well as placards.
According to the youth chairman of Kenyasi no 2 , Kennedy , the youth leaders of the five communities do no have copies of agreement between Newmont and the communities despite having making repeated requests for this.
Included in their grievance was that Newmont was not employing the natives of the community and as such unemployment was rampant despite having such a large organization operating here.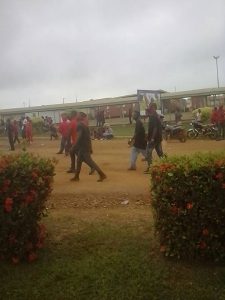 The Youth Chairman also stated that according to a research document revealed to them most of the water bodies in the communities were polluted as a result of Newmont's mining activities and a number of food crops were infected with toxic substances. As such the residents livelihood was in danger. *Note that Anapua FM cannot independently collaborate the actual existence of such document as it was not presented with this.
He appealed to government to quickly come to the aid of residents and also to ensure that Newmont do the right thing to avoid unforeseen action.
The protesters came from Kenyasi # 1, Kenyasi # 2 , Ntotroso, Gyedu and the Womahinso communities.