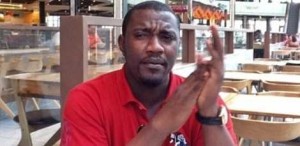 Movie Actor John Dumelo's scathing attacks on Nana Akufo-Addo, the New Patriotic Party (NPP) presidential candidate, seems to have landed him (Dumelo) in big trouble.
The actor's reported comments that Nana Akufo-Addo cannot become the president of the country, had incurred the wrath of several residents of Kumasi, including known NPP members.
One of such angry people, Edmund Kyei, the Asokwa NPP communications director, has sternly cautioned the movie actor to refrain from attacking the NPP leader in his (Dumelo's) own interest.
"If he wants to descend into the gutters, then he should know that some of us are ever ready to enter the gutters with him so he should be warned," the NPP man stated.
Speaking in an interview with BEATWAVES, Mr Kyei wondered why John Dumelo has suddenly from nowhere become the official spokesperson for the NDC.
"We thought he was an actor and if his career is dwindling and he has therefore decided to become a politician to secure his daily bread, then he is welcomed," the NPP communicator said.
Mr Kyei, however, cautioned Dumelo that he has no right to constantly attack Nana Akufo-Addo, adding that "if he continues his childish behaviour, then we will be forced to attack him too."
He suspected that Dumelo's real motive is to always attack the NPP leader in order to divert the people's attention from how poorly the country is being managed by President Mahama.
Source: Daily Guide.