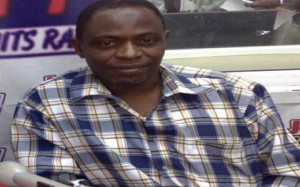 Hearts manager Mohammed Polo will be sacked today if the Board and Management pass the vote of no confidence in him.
A highly placed Hearts of Oak source has confirmed to sportscrusaderonline.com that the club's manager Mohammed Ahmed Polo will be asked to step aside from the first team.
The Hearts Board will today demand tangible reasons which led to the elimination of Hearts from the MTN FA Cup competition and why the manager clashed with some players of the team.
Polo will face the Hearts Board and Management in a Technical meeting at 10:00am prompt today (Monday 23rd December 2013) and the Hearts source who disclosed this to sportscrusaderonline.com has revealed that Polo has lost the confidence of both the Board and Management and could be sacked today for failing to live up to expectations.
Since taking over, Polo has seen his team play four matches and has won one, drawn one and lost twice.
Polo is also said to have clashed with some senior players of the team after he accused them of sabotaging him to ensure that he does not succeed as a Hearts manager.
Polo is said to have slammed two of his first team players for failing to travel with the team to Wa where the Phobians lost to All Stars.
Sources say "Polo did not act professionally when he called two of his players and heaped insults on them for not travelling to Wa to play in the All Stars game. The players have officially lodged complain and we will go into that and if that proves to be true then its unfortunate Polo would have to go for poorly conducting himself".
Sportscrusaderonline.com investigations proved that the two players were all nursing various forms on injury and couldn't have played in the game against All Stars.
According to the Hearts source some coaches have been contacted to step in for Polo.
The source said "Polo has failed and we are all disappointed in him. The Board, Management and the fans have all been disappointed and we don't think it will be prudent to let him continue as manager of the side".
The source also revealed that Polo will be relocated to take charge of Hearts' junior team Auroras.
"We don't intend to sack him entirely because we have realized that he will be good at the junior level. Once we get a replacement for him, Polo will take charge at Auroras to build the junior team".
sportscrusaderonline.com