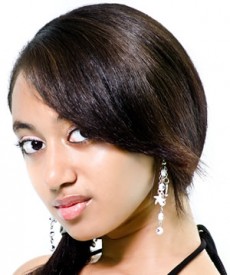 Although her fans have described as "sexy" due to her attractive looks, 15-year-old Afro pop Singer Jayla says she is not comfortable with the word "sexy".

According to here, 'cute' is that word that best fits here description.

"I have had people pass a lot of comments about me saying that I am very sexy especially when you go to my fan pages and I really appreciate those comments because it shows that my work is being recognised but I would prefer them to use 'cute' instead.

"This is because I am still in my teens and you know how the Ghanaian society perceives people who are called sexy. I do not want to be seen in that light but at the right time when I come of age then they can call me sexy", she said.

When asked whether her attitude was not influencing people to describe her as sexy, she said "I do not think so at all, I know the dos and don'ts when I am in public, I do not carry myself in any manner that will go against the norms of my family. I come from a very discipline home and my parents are very particular about the kind of image I put out there."

"Yes I wear certain things that people perceive to be for certain caliber of people like sex workers or bad girls but that is all perception. The fact that I wear such things does not mean that is who I am. Moreover, they are just for stage and my music videos", she added.

Speaking Showbiz, the "Lyk Seriously" singer said such criticism will not in any way define who she is or stop her from doing what she loves and enjoys doing.

"Whatever you do people will talk about it so I do not mind what critics say, if they are good and worth paying attention to, I will because I can't do it all alone, I need constructive ones to help me develop.

"I also have my parents support all night all day, they guide me and admonish me when I go wrong and the fact that I am a public figure does not mean I should disrespect them. They are my God on earth and I want to live long just as the good book says about children who are obedient."

Jayla, whose real name is Jasmine Bridi, Jayla, is signed on to Lynx Entertainment.

She is of Ghanaian and Lebanese descent, and has several songs and videos to her credit, including 'Lyk seriously', 'Louder' and 'School' is over.

It is her dream to be doctor in future, but according to her, that will not be a hindrance to her music career since it is her "passion and calling".
Jayla
Source: Daily Graphic