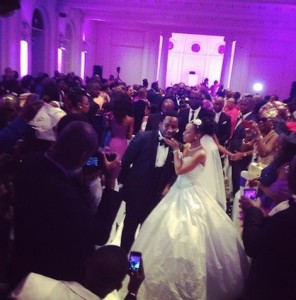 On August 23, 2014 in London, gospel musician Sonnie Badu danced to 'Adult Music' by Highlife artiste Kwabena Kwabena during his wedding ceremony with Ann-Marie.
The issue of Sonnie Badu dancing to secular music became one of the most talked about issues in the country during the week.
Whilst others rebuked the "Baaba" singer for his act, others stood behind him arguing that there is nothing wrong with the newly married man and his wife dancing to the song. Now we know why Sonnie Badu didn't dance to any other music aside Kwabena Kwabena's 'Adult Music'.
Before Sonnie Badu tied the knot on that faithful Saturday, he had told KOD on his TV show, 'Hangout with KOD' that he loves Kwabena Kwabena's songs because they talk about love.
Not only did he mention Kwabena Kwabena as the secular artiste he loves listening to, but he also named Dan "Iron Boy" Amakye Dede and Afro-pop,Highlife and reggae artiste Kojo Antwi.
This answer was given when KOD asked him if he listens to Ghanaian music, read below:
Those who talk about sex and I want to do that, they are not good for the society. It doesn't speak well, but those who talk about love, I think there is nothing wrong with it. I listen to Kojo Antwi and Amakye Dede.
I learn from them, when they are on stage, the way they perform. I call them uncle because they have experiences we don't know.
So it's the lyrical content that differentiate between the two, gospel music and secular.