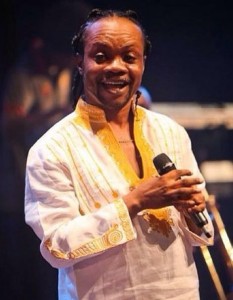 Highlife legend, Charles Kwadwo Fosu aka Daddy Lumba, has promised to continue to release albums for the next 20 years. One in each year.
He made this revelation at the Miklin Hotel, Kumasi on New Year's Day at what can be described without doubt as one of his best live-stage performances probably in his entire music career.
The music icon put up a mind blowing stage performance for hours which sent the charged crowd that attended the show, singing and dancing all night.
ubbed 'New Year Bash with Daddy Lumba', the show which was hugely successful, was organised by Apotiti Consult, owned by broadcast journalist, Kwame Adinkra.
The merry-making event was graced by top-notch personalities including DCOP Kofi Boakye, Boris B, media personlaities such as Kwami Sefa Kayi, Omanhene Yaw Adu Boakye, Loving Cee among others.
The event started with musicians such as Kofi Nti, Nero-x and Shatta Rako, just to mention a few, in turns, putting up brilliant shows to delight the colossal crowd at the event venue.
The entire foundation of the venue was literally turned upside down when Daddy Lumba, who was dressed in all-white apparel, mounted the stage in the company of Bantama MP, Kwabena Kokofu.
Lumba, whose demeanour clearly showed that he was in good spirit, sang some of his melodious hit tracks including the famous 'Yentie Obia', drawing the crowd to the dance floor.
Daddy Lumba delighted the crowd as he performed for over two hours. At the tail end of the show, he thanked Ghanaians for their support and assured to release 20 more albums before he draws the curtains on his music career.
Source: Graphic.com.gh.