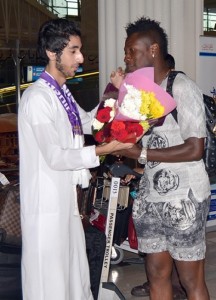 Ghana striker Asamoah Gyan received a rapturous reception on his return to Al Ain on Monday morning.

The Black Stars captain was pleasantly surprised when he arrived to a score of Al Ain fans upon his arrival in Dubai.

Gyan had delayed his return to club duties following the loss of his musical partner Castro during a holiday hangout in his native Ghana.

The musical icon remains missing alongside a female friend, Jane Bandu.

Gyan who had a fruitful campaign in Ghana's disappointing showing at the 2014 World Cup in Brazil reaffirmed his cult status at his club when he arrived at the Dubai airport with thousands of Al Ain fans waiting to receive him.
Asamoah Gyan welcomed to Dubai
He was presented with a bouquet of flowers as the fans chanted his name in their exciting customized cheer song.
Gyan will be commencing his pre-season quite late after missing the club's pre-season tour of Italy.
The Black Stars captain however maintained his fitness throughout his holiday stay in Ghana with usual in-door and out-door workouts with friends and family.
He is expected to play in Al Ain's friendly game against Al Kuwaiti SC on Wednesday. The 28-year-old will also be joining the side on their next European tour of Austria at the end of the month.
Source: Asamoahgyan3.com.