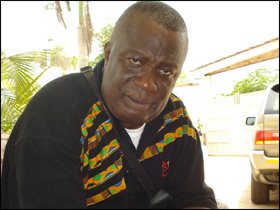 While the nation's attention is focused on the on-going FIFA World Cup in Brazil and with soccer fans in the country praying fervently for the Black Stars to sail through in their next game against Germany, Chuck Kofi Wayo, founder and leader of the United Renaissance Party is still in the political mood and has fired salvos at Ex-President Jerry John Rawlings.
Speaking in an interview with Peacefmonline.com, Kofi Wayo did not mince words as he described the former President and founding member of the ruling National Democratic Congress as a "Criminal."
According to him, former President Rawlings stole the pride of the nation during his reign as President of the Republic.
Kofi Wayo explained that it was under former President Rawling's watch that several factories established by Ghana's first President, Dr. Kwame Nkrumah, were whisked away.
He further lamented about other inappropriate activities that Mr. Rawlings supervised under his administration.
He also descended heavily on the State leaders, positing that the nation's leaders tend to only think about their stomachs and so, exploit Ghanaians for their personal gains.
Expressing his distaste over the character of the leaders of the country, Chuck Kofi Wayo called for an attitudinal change so as to resolve the crippling economic challenges.
"All the factories, Rawlings has stolen. Rawlings is a Criminal. He is a Criminal. All of us, our father; he died accidentally. He left us over 200 factories. Common Sense should tell you, what should we do? We should improve on the factories so that the young generation, they will get a job to do.
"The black man, there's no law…once you are a big man, you're above the law…They don't think that they will die. They think they're big men but God doesn't see you as a big man," he stated emphatically.