In Fortazela and Russa, Brazil, two individuals, from very different walks of life, are both horribly injured in freak explosions. Both Josue Bezerra and Maria Ines Candito da Silva suffered potentially-disfiguring, second-degree burns as the result of their tandem accidents.
Every day, Brazilian doctors scramble to help heal people like Antonia and Maria using their limited resources and ineffective techniques. Recently, however, doctors in Brazil have come up with a rather fishy technique to heal burns in a matter of days…
Josue Bezerra was a fisherman living in Brazil. He made his living working along the rivers and had a good, steady job and a happy life, that is, until one day when disaster struck out of nowhere. While working on his boat one afternoon, one of Josue's gas cans got too close to a flame and exploded, engulfing him in flames
The explosion had left Antonio's left arm completely covered in second-degree burns. Luckily, the flames and burns only affected his left side. "I was in absolute agony and desperate for anything to ease my suffering…" said Josue. And he wasn't the only one…
In a similar accident, not far from the emergency room where Josue was being treated, another accident was about to occur. Thirty-six-year-old, Maria Ines Candito da Silva was working as a waitress at the Casa Velha restaurant in Russas, Brazil, when a gas cooker canister exploded right in front of her.
Maria's case was much worse than Antonio's, however. The explosion left the with a number of horrific injuries. She received second-degree burns to her arms, neck and some of her face and was rushed to a nearby hospital. But for Maria, just as it was for Antonio, the struggle was only beginning.
When the two first arrived at the hospital, nurses tried the usual treatments for their burn wounds: creams, salves, ointments, etc. But the mere touch of a gloved hand to their burns sent the fisherman and the waitress into yells of excruciating pain. "..It was like being tortured…even the touch of the water to shower caused so much pain…" said Maria
There weren't many other options available to soothe their pain, either. Even skin grafts weren't exactly a practical option. There are only three functional skin banks in Brazil and each can only meet only 1 percent of the national demand. The next options were not much better
As a result of the distinct lack of skin graft materials, hospital patients in Brazil are normally bandaged with gauze and silver sulfadiazine cream, a silver-based burn cream that prevents infection. Unfortunately, the cream, like almost everything else that touches burns, stings the bejeezus out of the patient.
Worse than that, the silver cream doesn't actually aid in the healing process. Just stings and prevents infection. Also, the gauze-and-cream dressing must be changed daily, a painful repetitive process. Here is, however, an alternative: a rather unique on in fact
Many countries, developed countries at least, use animal skins in the treatment of burns. Unfortunately for Josue and Maria, Brazil lacks access the human, pig, and artificial alternatives that are widely available in the U.S. They do happen to have a great deal of one particular animal: the tilapia fish
The humble tilapia, a farmed freshwater fish that is native to Brazil, is plentiful in most parts of the country. And though most of the filets are exported to other nations, the skin of the fish is generally discarded for its inedibility. As it turns out, the skin actually has a number of interesting uses, including burn healing
Josue was a bit nonplussed when his doctor came up to him suggesting that they put fish skin on his burns. "…I found the idea really strange. But I jumped at the chance because they said it would be far less painful than the normal treatment and easier to manage." It was a bizarre experience, but one that both patients agreed was better than the alternative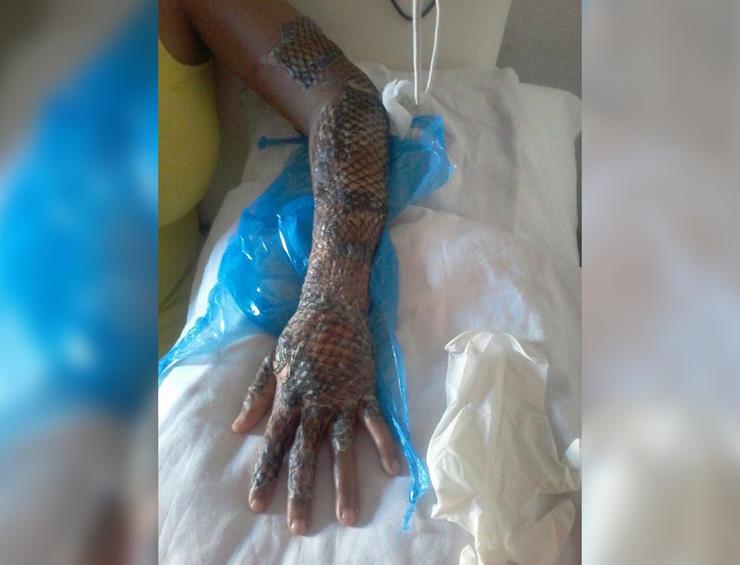 Maria explained that her experience with the fish skin was like being in a Sci-Fi movie. "At first," explained the waitress. "The fish skin felt really cold, but within minutes of it being laid on, I didn't feel any more pain…it felt cool and comforting." But how long would a treatment like this be effective?
Unlike whole fish or fish fillets which stink after three days, the sterilized tilapia scales go through a rigorous curing, decontamination, cooling, and preservation process. It removes all excess scales, muscle tissue, toxins and any possibility of transmitted diseases. All this cleaning gets rid of the fishy smell and actually makes it stay on way better than gauze bandages.
The researchers responsible for the amazing solution, Dr. Edmar Maciel and Dr. Marcelo Borges, revealed that the skin contains the perfect levels of collagen and humidity, which makes it last longer than regular bandages. The skin also speeds up the healing process and provides patients with essential proteins. But what makes tilapia perfect, you may ask?
Besides the fact that it's plentiful, tilapia was chosen because it's also relatively disease-resistant by fish standards. Once doctors Maciel and Borges realized that it met all their needs, they began to contact local fisheries which donated the skin for free. It's so effective that it can reduce healing time by several days, at least.
Mother of two Maria was emphatic about the success of her treatment: "I loved the treatment and would recommend it to anyone who has suffered like me." Since her initial scale treatment began, Maria is almost 100 percent healed and believes that the fish dressing has made all the difference. There still is some study required, however
The radical procedure completed its first pilot project trials this past month. Over 50 patients, including Josue and Maria, received the skin dressings for 11 days before it was removed. Twenty days in and the skin had actually helped foster healing on the damaged tissue.
Source:LifeDaily