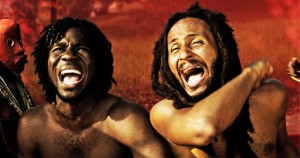 After a naked photo of Wanlov and his bosom friend M3nsa surfaced online some time ago, Ghanaians went agog to hear what they had to say about it since it wasn't the first time such unfortunate incident has happened.
As a blogger, I was not an exception. As I was in a car heading towards Hello 101.5 FM in Kumasi to join Dave Hammer and his panelists on Hello Entertainment Review the Saturday after, I decided to check on some entertainment shows to hear what they will say about the said photo since it was a topical issue within the week.
I by chance tuned into KFM where fortunately for me, the host Tony Best had called Wanlov to ask how the photo went viral and what he thinks about it. Emmanuel Owusu Bonsu a.k.a Wanlov in the interview said"this photo was taken in Finland when we went out to bath. We (Mensa & I) snapped many pictures (including the leaked one) and sent them to five ladies," he said. "One of the ladies sent it to her boyfriend who ended up posting it on the internet. I was a bit surprised since that particular picture wasn't meant for public consumption, it was something personal, so I said oh…Not again, but well…," he added.
He further added that he is not really worried about the photo because that was not his first time and he is used to public criticisms but rather worried for his brother M3nsa who has been receiving multitudinous calls concerning the issue.
But when Wanlov was hosted by Jon Germain on Allo Tigo a week ago which was reported by myjoyonline.com, he gave a different story from what he earlier said on the Kumasi-based radio station.
"We went to Finland – we did two shows there – and in between the shows we went to the country side to sauna. So we [went] to the sauna, we jumped into the lake and then sauna you do it naked… we started taking pictures because we were feeling free out there so we wanted memories," he claimed.
"M3nsa felt so liberated that I said I can imagine what will happen if I put it on instagram, he [M3nsa] felt excited and put on it instagram," he said.
Have you spotted his contradictory explanation?
He earlier said he sent the photos to some ladies and one of the ladies later passed it on to her boyfriend who posted it on the internet but with his interview with Germain, he said he personally posted them on instagram.
Which of the two is the truth, Zionfelix asks?
Source: Zionfelix.com