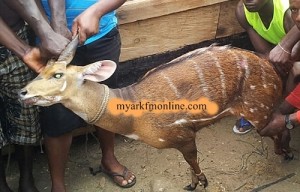 Fish is caught in the sea; lions, the deer and the leopard are found in the forest but Tuesday, strange as it may seem, fishermen from Ekon in the Central Region made one of their greatest and heaviest catches during their fishing expedition; a huge deer swimming in the sea.
The catch has caused a stir in the community. School children, market women, drivers and people from all walks of life trooped to the beach to catch a glimpse of the creature.
Kofi Asemasa who caught the animal told Central Regional Correspondent, Richard Kwadwo Nyarko the circumstances under which he made the catch.
He said he went to the sea Tuesday morning to inspect his nets set last night with two young boys who saw the animal swimming in the sea and alerted him. They said they had seen something strange, he stated.
"I immediately dashed to that direction and noticed it was a deer. I swum and held the horns of the deer and asked the children to hold the legs but because the animal is big and the children were afraid the animal run away. I had to wait for a canoe that was coming from cape coast heading to Narkwa to help me out to catch the deer, tie it and bring to the shore," Kwadwo Nyarko reported him as saying.
The fisherman said he wasn't too scared when he saw the deer in the sea because he had seen a deer in the sea before even though that was a very long time ago.
Fishmongers and the fishermen in the community have expressed shock at the catch.
The fishermen are looking for market for the deer. They told Richard Kwadwo Nyarko because they only deal in wish, they have no idea how much the sell the animal for.