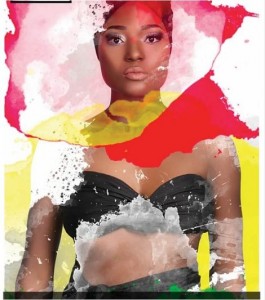 Silky voice songstress, Efya, is featuring on the cover-page of the next issue of the Africa 2.O magazine.
The release of the second edition of the magazine dubbed, The Independence Edition, is set to come out next month, March.
The magazine, started by young, passionate, American-trained Ghanaian, Steven Klogo, has received rave reviews since it was launched in December last year.
He believes the next edition will chalk up a roaring success as the first one and even more.
When asked what to expect he said, "You can expect this magazine to continue to have interesting talking points and photography. We can't tell you exactly what it is yet or else we're giving away the contents of the magazine and it's no longer a surprise but, we can tell you majority of the pages will revolve around Ghana."
Speaking to how well the magazine was doing Mr. Klogo said, "the response has been great, everyone that has a physical copy or has downloaded it from our site appreciates the amount of time and effort put into the magazine. Online downloads have been good, loads of people  from countries like Sweden, France, America, and the UK have been heavily involved in downloading the first issue and the emails we get back sometimes from people about what we're doing is just fantastic and we hope to do even better."
The magazine will be released in limited print runs for sale and available for download as well online via their website.
Explaining why the magazine would be released in limited prints, he said, "We're releasing small print batches because distribution of print anything now in this day and age is hard but there are still a few people out there who would like to hold the magazine and see the work that we've done on paper so we're really doing it for them."
Source: Myjoyonline.com/Ghana.