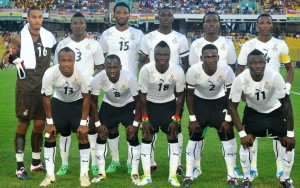 Ghana have shockingly dropped 13 places in the latest FIFA world rankings to 34th place and are down to 4th in Africa in a shambolic ranking released by the world governing body on Thursday.
The ranking released by FIFA also showed the Black Stars losing its long held second position to Algeria and Cape Verde, who were both not in action in the past month.
And both countries have not achieved any better success than the Black Stars over the past month or in recent months, casting a huge doubt over FIFA's ranking system.
FIFA just last month confirmed that they have agreed to add the CHAN tournament to its recognised A matches which are used for the monthly ranking of the national teams.
Despite the huge successes chalked by the local Black Stars by reaching the final of the tournament in South Africa, FIFA dropped the Black Stars by 13 places further damaging the credibility of the much-criticised ranking system by the governing body.
Nigeria have dropped six places to 47th in the latest world rankings, released by Fifa on Thursday.
The Afcon holders, who finished third at the recent Chan event in South Africa, are placed eighth on the continent, behind Côte d'Ivoire, Algeria, Cape Verde, Ghana, Egypt, Tunisia and Cameroon.
Globally, world and European champions Spain, Germany and Argentina remain the top three teams.
World top 10:
1 Spain
2 Germany
3 Argentina
4 Portugal
5 Colombia
6 Switzerland
7 Uruguay
8 Italy
9 Brazil
10 Netherlands
Africa top 10:
1 Côte d'Ivoire
2 Algeria
3 Cape Verde Islands
4 Ghana
5 Egypt
6 Tunisia
7 Cameroon
8 Nigeria
9 Mali
10 Burkina Faso