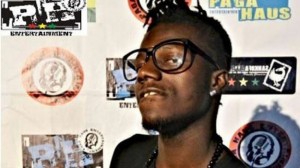 Pope Skinny is a musician and currently the host of Kasahari Level on Adom fm. He is very vibrant on the show and has been able to maintain and increase the listenership of the show. It's pretty certain that Pope Skinny would continue to be in charge of Kasahari Level if only he is not axed by Multimedia.
However, as a musician, Pope Skinny had been struggling for a national breakthrough by way of a hit track till he collaborated with Shatta Wale on his "hot cake" song.
The song is really a hot cake considering the massive airplay it's enjoying all over the country. It's an open secret that it`s Shatta Wale's contribution on the track that has made the track a hit.
The "hot cake" hit is in contention for the Reggae/Dancehall Song of the Year and comes up against Shatta Wale's Dancehall King. Hot cake is also gunning for the Best Collaboration of the Year. Even before the Vodafone Ghana Music Awards is held, Pope Skinny has released another hit track "wa shatta me" which once again features Shatta Wale and already, Pope Skinny is hopeful of gaining a nomination for the Best Collaboration of the Year in next year's VGMA.
Strangely, is it that Pope Skinny can't single-handedly release a hit track without the assistance of Shatta Wale? Is he only taking advantage of Shatta Wale's current popularity on the music scene to get noticed? For now, Pope Skinny's music career has been re-ignited and revived by kind courtesy of Shatta Wale's contribution on "hot cake" and the "wa shatta me" hit track has also given Pope Skinny a head start for the year 2014.
However, the presence and strength of Pope Skinny as an artiste on the music scene can only be felt or measured  if he is able to release a hit comparable to or beyond  "hot cake" without the help of Shatta Wale who is currently the most popular artiste in Ghana. The year 2014 is still young and Pope Skinny would by all means release some tracks before the year ends but I would want to challenge him not to feature Shatta Wale. If he is able to have a nationwide hit track without Shatta Wale or any other big artiste, then we can say Pope Skinny is still relevant in the music industry and a force to reckon with.
Meanwhile, Pope Skinny has confirmed that his music career has been revived by the Almighty God through Shatta Wale and he is grateful for that. He also revealed that he can release hits without Shatta Wale but as it stands now, his fans enjoy songs he does with Shatta Wale. ''If doing 1000 songs with Shatta Wale is what will put me out there, I will gladly do it" he stressed.