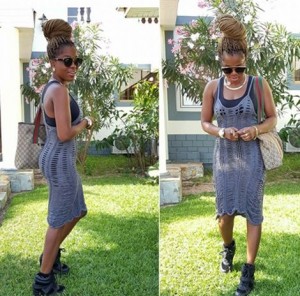 With all due respect, I will like to make it clear to everyone that I am not a Porn Star. I am very confident and comfortable with my body even after having a child. The suggestive photos u see of me are strictly art and act and that is showbiz.

If u can appreciate and respect Beyonce, Nicki Minaj, Kathy Perry, Madonna, Kim Kardashian etc then try to do the same with Ghanaian female artiste and stop tagging us with negative and bad stuff. Let's not be hypocrites, art and act is beautiful.
Hope we have an understanding, thanx
Reasons Mzbel Is Hurt, Annoyed – By Ghanavibes.com
Mzbel is trying to re-brand herself, in order to suit her corporate audience. She revealed this in an interview with Sammy Flex on Monday morning, the 9th of November 2015.
She stated it hurts when people call her all sorts of names like porn star and more, because when all that ends up on the internet, it's not good for business.
From her interview on Pluzz FM, we seem to understand why she's so pissed off, and here are 10 reasons she's trying to re-brand.
When one Googles 'Mzbel', the results on the first page of Google are nothing to write home about for her- Anyone who does not really know her would think she was a porn star or prostitute like others have referred her as.

One is thus, only forced to believe those rumors are true, as you see keywords like cleavage, thighs, pant-less, sexy legs, no underwear, wild photos and more.

Her children will grow up to see all that- Mzbel currently has one child, though she might have more in the future, who will only grow up one day to see all these articles on the web about their mum (Mzbel). Questions on their minds could be 'Was my mum really raped like Diamond Appiah said?', or excuses like 'You can't tell me what is right or wrong mummy, since you did even more bad things in the past.'

She's losing cash because of bad publicity- She revealed in the interview that she was trying to re-brand for her audience in the corporate world, but it didn't work because people had tagged her with bad stories. She's losing corporate shows to perform at, because of the perception about her.
She's known for all the wrong reasons- Mzbel is a hip-life musician to be specific, but instead of being known for her 'good music', all some people know her for, is posing in sexy looking photos.

Even 'Dipo' is allowed, but she gets dissed for showing off some skin- She mentioned that our culture is actually naked. When its time for 'Dipo', the girls go out there and show their breasts and stuff, but nobody has a problem with all those things. People are rather concerned about Mzbel, who doesnt even go fully naked.
Source: Mzbel/facebook.