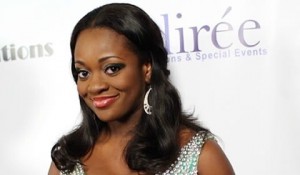 Daily Guide report is claiming Ghanaian entertainment icons were among hundreds of Ghana soccer fans who got stranded at Forteleza Airport on Saturday evening, after the pulsating 2-2 Ghana-Germany match at Forteleza.
The paper reports that Jackie Appiah, John Dumelo, Gyedu Blay Ambolley, slept on bare floor at the airport because there was no flight to take them back to Natal.
John Dumelo and Jackie Appiah
Members of the World Cup committee responsible for their care could not be traced. Due to this mishap, the soccer fans had to sleep on empty stomachs at the airport after the Ghana-Germany game until the next day.
The Ghana fans slept like refugees at the busy airport in the full glare of other nationals. There were threats to deal ruthlessly with the committee respon­sible for their appalling situation when they touch down at their home base in Natal. The fans made deafening noise to display their anger until they were flown back to their Natal base on Sunday morning.