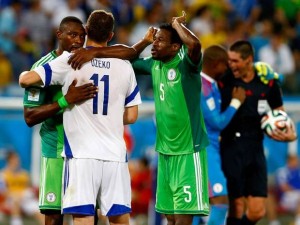 Over 20,000 people have signed an online petition requesting for the removal of Peter O'Leary from the World Cup after a photo of him celebrating with Nigeria's goalkeeper Vincent Enyeama made its way online. According to the Independent UK, the New Zealand referee drew widespread criticism after wrongly disallowing an Edin Dzeko strike after 21 minutes. Emmanuel Emenike also appeared to "clip the heels" of Emir Spahic which went unnoticed by the referee.
As a result of all these, a Bosnian fan has sent the petition to FIFA, asking for O'Leary's removal. Dzeko who spoke to reporters describes the referee as "shameful".
"The referee happened. We are going home, we are sad because of that, but the referee should go home too, because he changed the result, he changed the game, and that's why we lost.