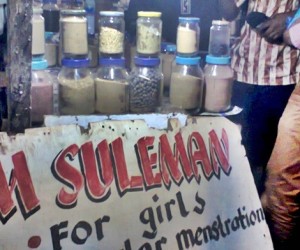 Love potions used to be one of the unorthodox ways men wooed their preferred ladies. But it is still being patronized and used.There's a popular one called "for girls". Joy News reports that many men in Madina, one of Accra's suburbs are now using it to woo the ladies and it's selling hot.

Located in the La-Nkwantanang-Madina assembly, Madina is the administrative capital of the municipality.It has grown to become a major business hub in Accra as many people, some even outside Accra, go there especially on market days to shop.

One of Madina's popular locations, Zongo Junction, is where most of these potions are sold.More than a dozen local herb vendors all lined up along the road. They sell drugs for various illnesses including gonorrhea, stomach ache and eye problem.

But on the list of every vendor, one is sure to find the inscription ''For Girls'' – a green cocktail of herbs and fragrance. The powdered herbs are in transparent bottles and arranged on small tables. "Actually, the medicine is sold at places where residents recognize the work it does,'' said Mallam Suleman one of the vendors as he explains why the business is booming in the area.

He added, "mix the medicine (the herbs) with the lavender and sit beside the woman and shake it'' and bingo! You've won her heart. Mallam Suleman rejects suggestions it has any spiritual backing. "The medicine is not juju but it's like a tree that is ground into powdered form,'' he said.

Many of the customers, he said, are young men. But not everyone believes "For Girls" has no magical powers. "When you go in for it, one day it will affect you. When you go in for a lady, it will help you. But in the end when the medicine go(sic) you'll find it difficult to get any lady," Kwame, a user of the medicine, told Joy News.

However, that is not deterring the many young men here looking for the women of their dreams. The addiction to "For Girls" goes on!
Source: Joy News.