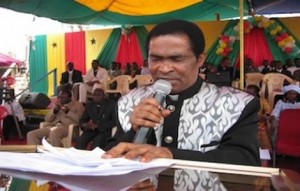 The mortal remains of Apostle Augustine Dr Annor-Yeboah, Founder of the Christian Praise International Centre (CPIC), was laid to rest at a private cemetery, on Saturday.

This followed a five-hour pre burial service at the forecourt of the State House, in Accra.

Bishop Charles Agyin-Asare, General Overseer of the Perez Chapel International, in a sermon, said Christians should celebrate the death of their colleagues because Jesus Christ promised a better life for them in heaven.

Consequently, he said: "The life of late Apostle Annor-Yeboah is not over but it's now starting in eternity….Today is not a day of mourning, but a day of celebration."

Bishop Agyin-Asare, however, reminded Christians to worthy lives that would reserve them their places in heaven.

In their tributes, the wife and daughters of Dr Annor-Yeboah, described him as 'a godly man who devoted his life to the service of God, the Church and his family'.

Mrs Mavis Totimeh, first daughter of the late Apostle, said: "Our dad was our hero, protector, friend, spiritual guide, and a shoulder to cry on."

Some of the dignitaries who paid their last respects to him were the Reverend Dr Anyane Boadum, Founder and General Overseer, Jesus Generation Sanctuary Church and Apostle Emmanuel Kwabena Osei Donkor, General Secretary, Christ Apostolic Church (CAC).

Apostle Annor-Yeboah, died on Thursday, June 26, at the age of 64. He was survived by a wife, Rebecca, and five daughters.

A former Chairman of the CAC, he broke away from that Church to found the CPIC, in July 2003. CPIC has more than 200 branches worldwide, including the United States, Germany and Italy.

A celebrated preacher man, Apostle Annor-Yeboah was honoured in April, last year, by two academic institutions in the United States of America.

Dayspring Christian University (DCU) and the American Association of Christian Therapists (AACT) conferred on him a Doctor of Christian Education (Honoris Causa) degree and an Associate Professor, respectively.

Apostle Annor-Yeboah graduated from the University of Ghana in 1979 with a Bachelor of Arts Degree in Economics and Geography.

He also held honorary doctorate degree in Theology from Pentecostal College, Tuskegee, Alabama, USA.
Source: GNA.