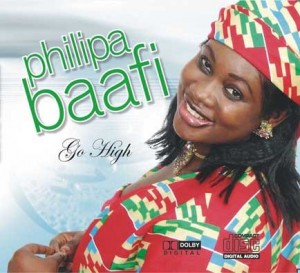 These few years might have been slow for gospel musician, Philipa Baafi, but she is ready to tour the country as part of activities marking her 15th celebrations in the gospel music industry.
The tour which starts on Saturday, July 27, will take her to places such as Kumasi, Cape Coast, Accra, Takoradi, Ho, Tamale, Sunyani, Koforidua, Oda, Sehwi Wiawso, Swedru, Bibiani and Bogoso.
Gospel musicians who will be supporting her are Amy Newman, Mama Esther, O.J, Celestine Donkor and Esther K. Appiah. Side attraction will be her good friend, comedian, Agya Koo.
According to Philipa, the tour which will last for a year is to get close to her fans and thank the Lord for seeing her through her music career.
"God has been so good to me ever since I started my music career in 1999. I believe touring the country with these gospel musicians is the right thing to do to mark 15 years in music.
"I will also get the opportunity to interact with my fans who have been dying to see me but haven't had the opportunity to do so yet", Phillip told Graphic Showbiz last Monday.
Philipa said she has been quiet on the music front because she had to take a break to study the music terrain and the game well in order to come back on the market with the best of music.
"I don't rush in releasing an album because I always want to give my fans the best of me and that is evident from the songs I have released previously", she said.
Philipa who is on the Kariphil Records label has released her latest album Aseda Piesie which contains songs such as Eho Etoro and Megye Medin.
Some of the songs on her previous albums are Nyame Honhom Sane, Mogya N'akasa, Okyeso Nyame, Yesu Ye Me Last Stop, I Go Dance, Go High and Dee Eba Wonsem Afe Yi
Philipa started her music career in St. Monica's Senior High School at Mampong. Until she released her maiden album, Nyame Honhom Sane in 1999, Philipa was singing from one church to the other.
Source: Graphic Showbiz.