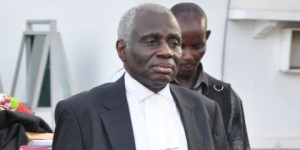 A member of the Communications Machinery of the ruling National Democratic Congress (NDC) Alhaji Naziru Mohammed believes evidence adduced by the parties involved in the Drillship saga shows there will be prosecution of some officials just as some government officials were sentenced for their negligence over their stewardship of some state properties.
The GNPC Drillship saga has seen former Energy Minister and his Deputy in the erstwhile Kuffour administration, Hon Albert Kan Dapaah and Hon K.T. Hammond, appearing before the Judgment Debt Commissioner, Justice Yaw Apau to give evidence involving the transaction of the sale of the Drillship.
K.T Hammond, told the Commission that monies accrued from the sale of the Drillship, were given to Ghana Ambassador to UK.
But Alhaji Naziru insists there is some inconsistency in the details regarding the sale of the Drill Ship and argues the explanation offered by the NPP MP for Adansi Asokwa Constituency lacks clarity.
He asserted on OkayFm that the emotional display by the former Deputy Energy Minister before the Judgment Debt Commissioner was unnecessary reminding him of the emotional torture families of Tsatsu Tsikata and some other officials who have been prosecuted by the previous administration, went through when they were dragged before court and finally imprisoned.
"….. it surprises me that he was crying because his name was mentioned in the Drillship saga and that his mother is affected as well; forgetting that Tsatsu Tsikata, Victor Selormey and Dan Abodakpi had families and mothers to consider too when they held a press conference to implicate them for acts of negligence", he stated.
The NDC Communicator strongly believed though it is too early to draw any conclusion, the case will lead to the prosecution of certain officials soon.
"…with the inconsistencies in the evidence being provided, one can easily conclude that he (Hammond) is hiding something in the case…the same procedure led to the prosecution of Tsatsu Tsikata, the late Victor Selormey, and Dan Abodakpi because according to the ruling, their action led to Willfully Causing Financial Loss to the State", he emphasized.
Daniel Adu Darko/Peacefmonline.com/Ghana