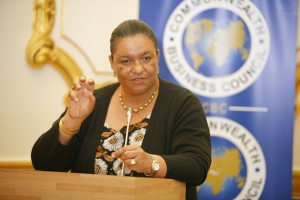 A Diaspora Support Unit (DSU) has been established at the Ministry of Foreign Affairs and Regional Integration to serve as a platform for Ghanaian enterprenuers who have returned from abroad to exchange ideas on how to grow their businesses.
Speaking at a diaspora business summit in Accra yesterday, the Minister of Foreign Affairs and Regional Integration, Ms Hanna Tetteh, said with the establishment of the unit, there was the need for Ghanaians in the diaspora to bring their expertise to bear on the national effort to expand the economy and create jobs.
"It is good that your remittances come to support your families and projects. It is a contribution coming to Ghana through your efforts but what we want to think about is broader than that," she said.
Bank of Ghana figures in 2012 indicate that remittances contributed GHc1.87 billion to the Ghanaian economy.
But that, the minister said, was not enough, stressing that what was needed was economic engagement that helped to create goods and services of value to expand the economy, create jobs and utilise the opportunities in the country.
The forum was also to create networking opportunities for diaspora returnees and local entrepreneurs.
Ms Tetteh said there were several opportunities which could be tapped by Ghanaians in the diaspora to advance the country's quest for socio-economic development.
Ghana's effort to bring back those in the diaspora to contribute to the country's growth include the Joseph Project, Homecoming Summit and PANAFEST, but the initiatives have not been executed on a sustained basis.
In 2010, the government incorporated migration management for national development into the Ghana Shared Growth Development Agenda, the country's medium-term policy framework, to emphasis the impact of migration on development.
That, the minister said, demonstrated the government's firm commitment to engage the country's diasporean community in a more proactive way for national development.
In a presentation on the status of dual citizenship, the Director of the International Immigration Unit of the Ministry of the Interior, Mr David Agorzor, said a recent Supreme Court ruling on dual citizenship had put the ministry in a tight corner on processes that one needed to pass through to acquire dual citizenship.
He said the court's decision that the processes persons of Ghanaian descent with the citizenship of other countries had to go through in Ghana to obtain Ghanaian citizenship were unnecessary had contributed to the ministry struggling to grant such requests.
Representatives of the Ghana Investment Promotion Center (GIPC) took the participants through investment opportunities in the country.
The opportunities are in the oil and gas sectors, energy, agriculture, housing and property development, services, rail development and manufacturing.
Source: DailyGraphic