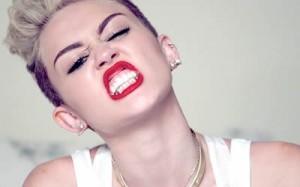 For the second time in seven months, Miley Cyrus has been targeted in a home burglary.
Two thieves hopped the fence of the 21-year-old singer's Los Angeles residence and made off with her 2014 Maserati Quattroporte and some jewelry, police have confirmed.
The burglary occurred sometime on Friday, and around 4 p.m. authorities were notified that the luxury car and other items were missing from the home nestled in the hills of LA's Studio City area.
Apparently a man and a woman scaled the property's enclosure and entered the home through the garage, Los Angeles police said in a statement to the LA Times.
Miley, who wasn't home at the time of the burglary and is currently on the European leg of her Bangerz tour, has been seen on occasion driving around town in a new white Maserati Quattroporte, which start at $102,500.
The Wrecking Ball hitmaker – who had $100,000 worth of purses and jewellery stolen from the same Studio City mansion last year – has been working with police after her assistant found personal items had been moved at the property over the weekend.
According to TMZ.com, Miley's assistant came home and noticed some of the star's belongings weren't in the same place.
A source said there was once again no sign of forced entry to the property and officers are looking through the 21-year-old singer's CCTV footage.
A fingerprint unit was also set to visit the star's property to look for clues.
Miley was clearly upset on Sunday as she took to Twitter to post: 'ya know when you just cry in the shower for no reason (sic),' although she didn't say whether or not her mood was related to the possible break-in.
The pop star's home was targeted in November 2013 on the weekend of her 21st birthday and thieves stole her vintage Chanel purse, which featured in photographs when Miley was seen smoking a suspicious-looking roll-up cigarette at the European Music Awards last year.
Sources said at the time she was 'really shaken up' and 'extremely upset' after the personal items were taken in broad daylight and she also avoided running into an armed intruder in 2012 when a man forced his way into her home carrying a pair of scissors.
Luckily, the singer wasn't in at the time and her employees were able to call the police quickly and have the man arrested.
It's been a tough start to the year for Miley who tragically lost her pet dog Floyd back in April.
The singer, who is currently believed to be single, found the situation very hard to deal with and openly wept on stage as she sang to an inflatable dog made to resemble Floyd.
She was also forced to cancel two shows after she was hospitalized for a severe allergic reaction to antibiotics back in April.
A spokesperson for Miley has been contacted for comment.
Source: TMZ