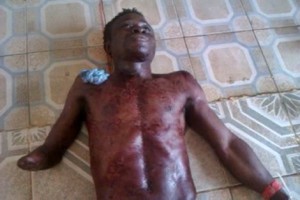 IT WAS a scene of sorrow and bewilderment at Kumawu last week Saturday, when the 49 year old amputee, who was murdered in cold blood by a group of military ersonnel and a police officer, was laid to rest at the Community Cemetery.
Kwaku Oppong, aka Noah, finally joined his ancestors, probably with a heavy heart, as questions continue to linger over circumstances under which he was beaten and eventually shot dead by the trigger-happy personnel. Hundreds of sympathizers joined relatives of the deceased in Kumawu, where he hails from, to perform the burial as well as observe the final rites.
Justice was the catch word on the lips of relatives and friends, as they cried and rained curses on the security personnel for killing their son, who despite his physical deformity, was a bread winner for the family.
On Thursday February 26 this year, Kwaku Oppong was killed under circumstances which could only be imagined in a movie, by some security personnel after he was chased into his residency, beaten mercilessly and later shot by the officers.
So far, the only reason given for his killing has come from the police which indicated that the deceased was driving as an amputee, which was against traffic regulations and also attempted to attack the five gun wielding officers with a knife, when they arrested him on the fateful night in his room.
No action has, however, been taken against the said officers whom, The Chronicle gathered, have  since been identified by the police, as the mother of the deceased Mad. Margaret Kyei waits impatiently to hear from the police about the outcome of investigations.
US EMBASSY AND HUMAN RIGHTS INTERNATIONAL JOIN BATTLE
All hope may not be lost yet, as the paper gathers some institutions have taken particular interest in helping the family of the deceased to secure justice.
Following a series of publications by The Chronicle, information available indicates that the United States Embassy in Ghana has decided to pursue the case and has already got in touch with the family to find out more details as to how they can be of assistance.
A brother of the deceased has confirmed to the paper that they have received calls from the US Consulate. Apart from that, personnel of the Human Rights Advocacy International, a civil society group committed to fighting against injustice, has also expressed interest in the matter and have been working in collaboration with The Chronicle in that direction.
The Ghana Disabled Society, the paper gathered, has also entered the fray and has declared its readiness to seek justice for the family.
Meanwhile, a police source has told The Chronicle that final report of its investigation has been submitted to National Headquarters, where it is currently being studied.
Source: The Chronicle.