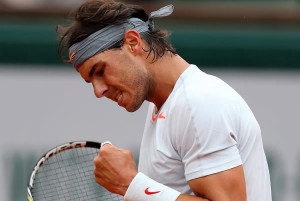 It seems no one can stop Rafael! Exactly three months to the day after he took home his record eighth French Open title on June 9, Rafael has triumphed again, beating Novak in the 2013 men's final of the U.S. Open.
Rafael Nadal is on fire! The Spanish tennis player won his second U.S Open title and 13th major title, 6-2, 3-6, 6-4, 6-1 on Sept. 9 at Flushing Meadows, New York. Read on for more details!
Rafael Nadal Wins US Open — Beats Novak Djokovic In 2013 Men's Final
Rafa is widely recognized as one of the best tennis players in history, but he's also a gracious winner, and he knew he was well-matched against his longtime rival Novak Dhokovic.
"Probably, only my team knows, how much means the match of today," Rafael said, holding his trophy. "Playing against Novak is a very special feeling. Probably nobody brings my game to that limit like Novak did."
This isn't the first time Rafael has faced off against Novak — the two have gone head-to-head 37 times! This was their third meeting in the finals in Arthur Ashe Stadium. Rafael won the first match in 2010, and Novak best his rival in the 2011 rematch. We can probably look forward to many more games from these two amazing players, but for now, Rafael is the reining champion!
Rafael Nadal Wins The French Open
Rafael proved his tennis prowess on June 9 as well, defeating David Ferrer at Roland Garros in France at the French Open.
Rafael defeated David in straight sets — 6-3, 6-2, 6-3.
It was a historic day for Rafael, who was playing in his first major championship since taking seven months off from tennis in 2012 due to injury. The win was his record eight at the French Open, and his 12th major title overall.
Going into the match, David knew that the odds were against him.
"Oh, [expletive deleted]. Now I have to play Rafa in the French Open final," David said after defeating Jo-Wilfried Tsonga in the semifinals. "He's an unbelievable player. He has all the shots. He has good receive, good forehand with topspin, [the] physical. In my mind he's the best."
Rafael proved that he's the best once again on Sept. 9. Way to go, Rafael!